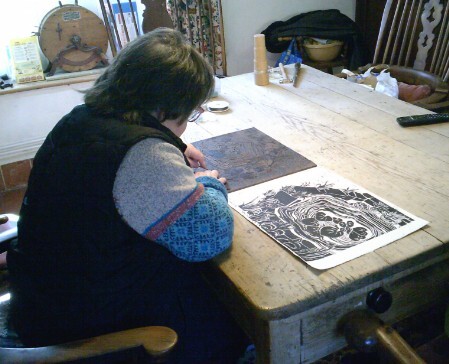 With any idea for printmaking I always start off with a rough idea regarding the end result. The image has to be created in reverse so that it prints the "right" way round.For me printmaking is not an exact art. Both etching and lino printing can produce results that are not expected but can be worked into the original design for additional efect. It's a go with the flow thing. Here I have printed the largest image my press can handle and by looking at both block and print together I can make small alterations to the block if necessary.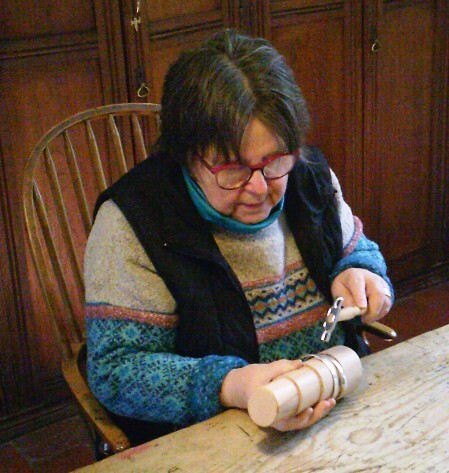 I love beads and have loads of antique, vintage and modern ones in all materials, some semi-preciou,s others glass, resin, wood and metal. Much of my finished work starts from just playing with the shapes and colours on a beading board and working with an open mind. Here I'm just about to string up the last necklace I made for Philippa from her extremely long strand of Turquoise, Lapis and Pearl. This is usually a very theraputic stage of the work.
This is the last stage - apart from polishing - of forming a ring from the top end of a silver teaspoon. The whole spoon was flattened in the vice and sawn into two parts. Both parts made striking and unusual rings which are very comfortable to wear.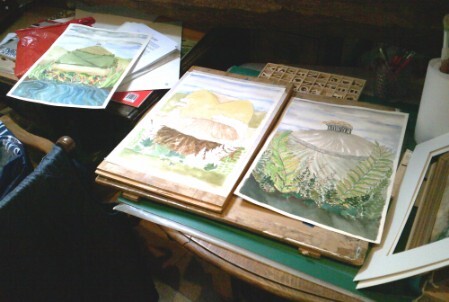 Working with pre-formed items presents a different challenge to forming from silver sheet or wire. To make the silver sugar tong bangle it first had to be deconstruted making it totally unfit for its' original purpose. It's always a sad time at this stage, but it has to be done! The straightened ex-sugar tongs are now being worked on a bracelet mandrel to acquire the bangle shape and size. It's a really good feeling to see the end result of re-purposing an obsolete item.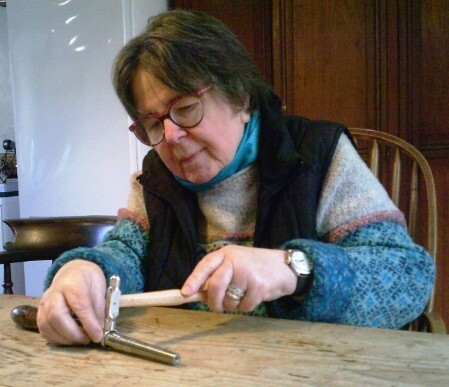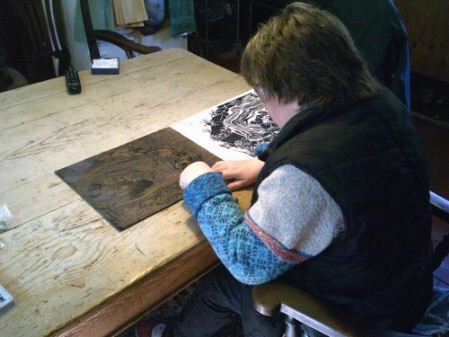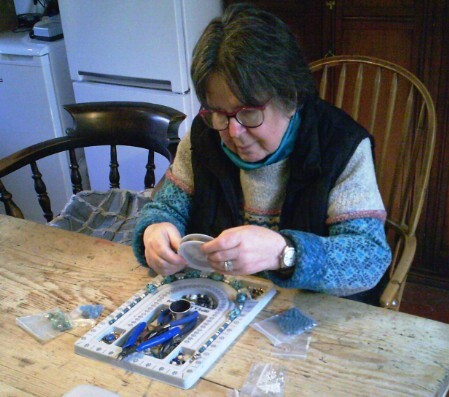 I work Watercolour by using the layer principal and going from light to dark. Here I started with a pen drawing and am working colour around it. Even if your paper is really good quality it's best to stick it down to avoid cockling. I don't always stick to using one medium so some paintings will be classed as mixed media.
I paint in Oil, Acrylic and Watercolour. The subject usually dictates the medium. This image is a corner of my studio and the paintings here are nearly all Acrylic. With both Oil and Acrylic you can squidge the paint around, sponge it off and generally create depth and Acrylic dries much more quickly than
Oil so you don't have to wait ages for the layers to dry. It's great to have finished work around - it's inspiration for new work.